500 Watts Power

13 Ah Li-ion Battery
70 Km Max Range

Hydraulic Brakes

Puncture Resistant
The Gondola is currently in stock and ship in 1 business day
Overview
Gondola is a bike that can give you the freedom to roam, the confidence to explore, and the motivation to pursue what once seemed unreachable. The extra large fat tires adeptly handle mud, snow, and gravel roads, ensuring maximum contact with the ground, this steady grip keeps you firmly in control as you journey along paths that are less commonly taken. Our renowned rear hub motor electric bike, a favorite among riders, delivers 500 watts nominal power and a torque of 65 Nm. With this considerable power under your command, you're equipped to conquer any type of terrain that unfolds before you. From sea to sky, and everywhere in between, explore it all with Gondola.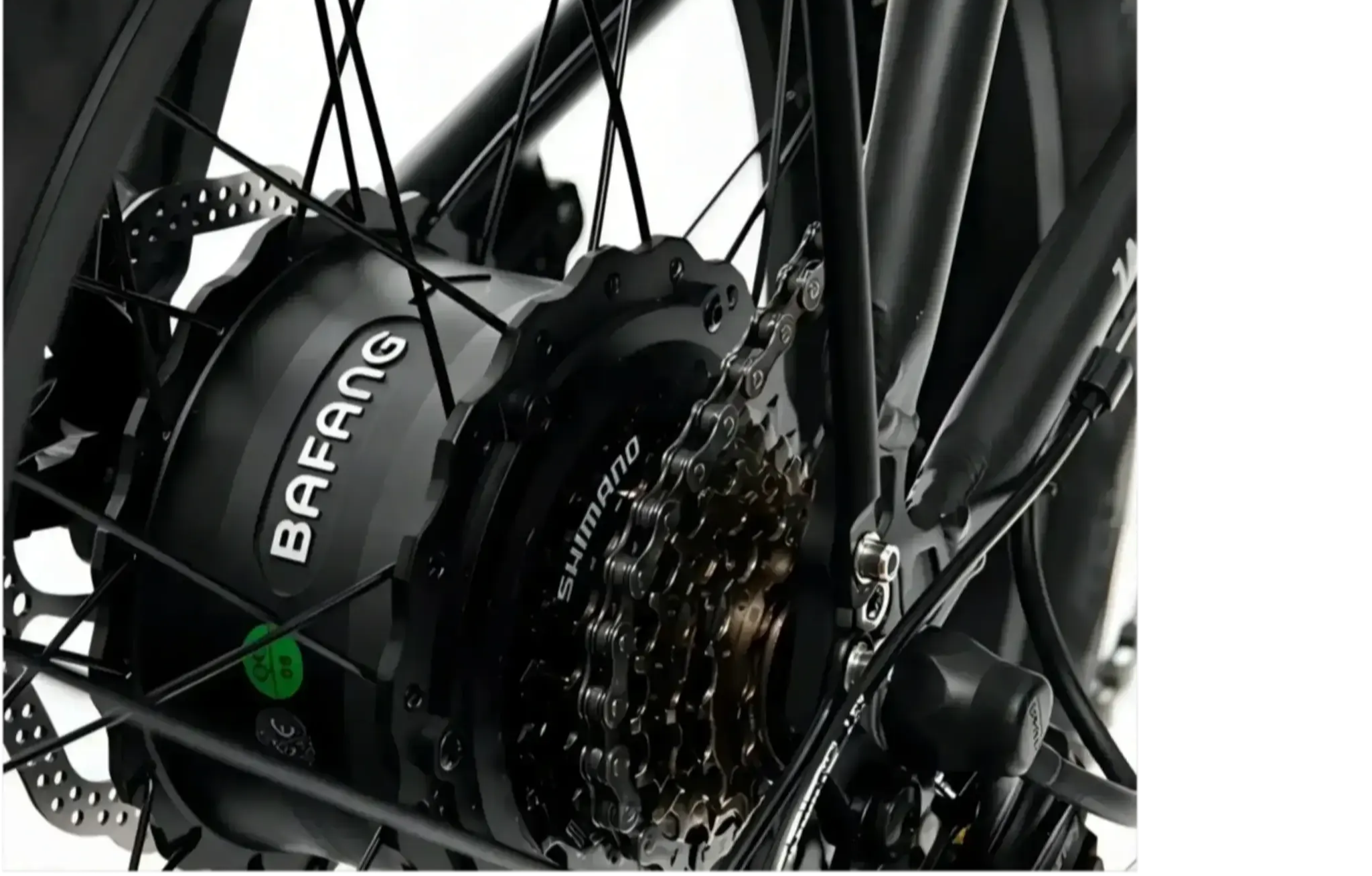 Bafang Motor
- Ride Fast & Have Fun On The Hills
Empowered by a robust 500W Bafang motor, the Fraser unleashes 750 watts of nominal power and a torque of 65 Nm. This configuration ensures not only a fast top speed but also substantial low-end torque, ideal for swift accelerations and tackling moderate hill climbs. The utilization of a sine wave controller in conjunction with planetary gearing means the rider will get excellent reliability, increased battery life, and improved efficiency.
32 km/h (20mph)
Top speed
The Battery
- Long Range Riding Has Never Been Easier
Fraser employs the latest in battery technology to create long-lasting batteries with superior range. The battery packs incorporate 48V/13Ah Samsung 18650 lithium-ion cells arranged in series, accompanied by a battery management system that safeguards the battery and ensures an extensive range for many years of riding ahead. The battery case is equipped with a secure keyed lock for added protection and is fully removable, allowing convenient charging and storage off the bike.
70 Kms (43 Miles)
Max range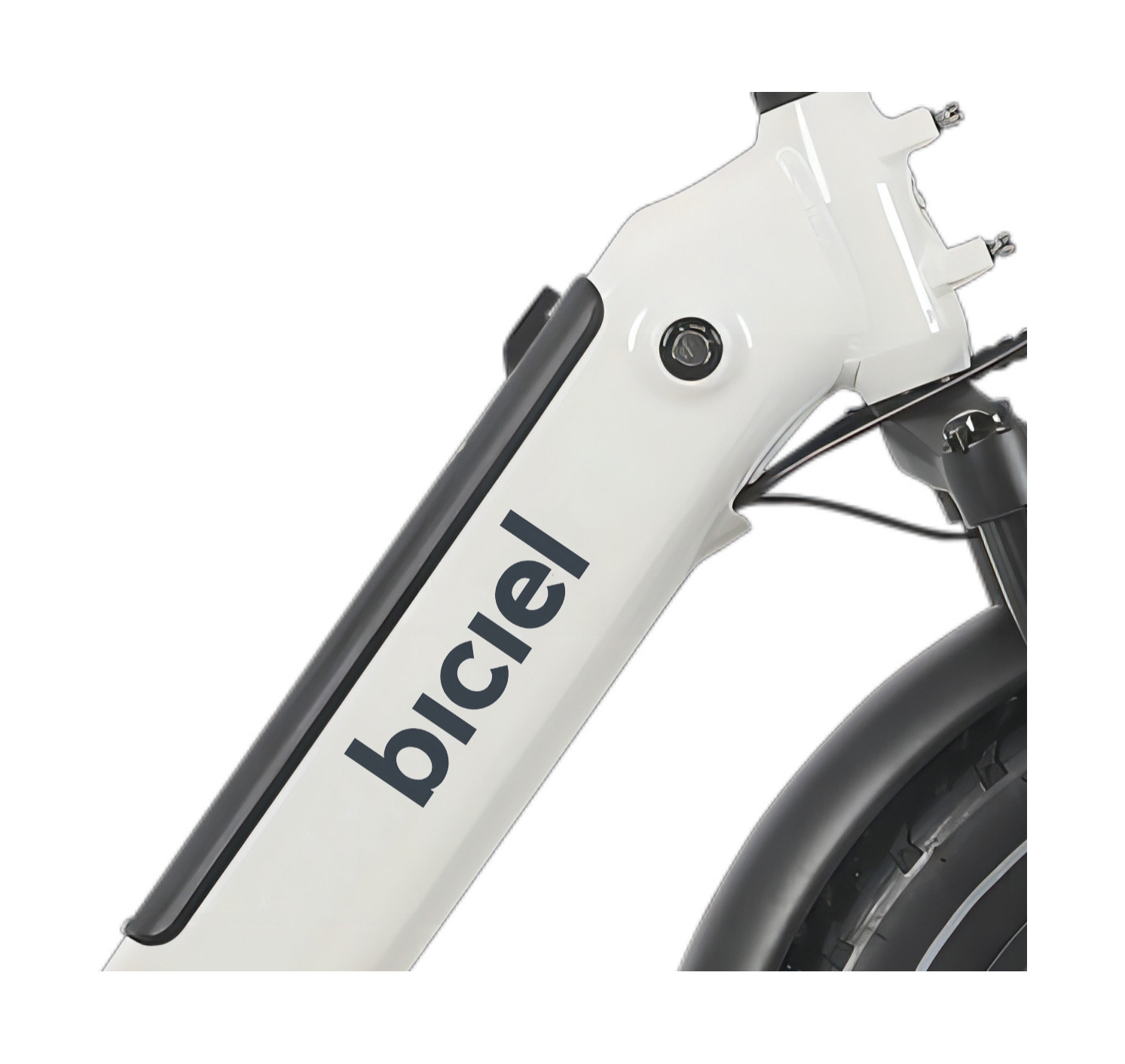 Hydraulic Bakes
- Rapid Stopping Power Enhances Safety
All Biciel Ebikes are equipped with Tektro hydraulic brakes which provide rapid stopping power through the combination of 180 mm rotors and hydraulic calipers. These easily adjustable brakes are chosen for their reliability and performance. While they rarely need servicing, when they do they can be easily serviced by most bike shops to bleed the hydraulic fluid and replace the pads as needed.
180 mm
Rotor diameter
48V, 2 Amp Smart Charger, operates on 100V-240V AC power outlets
48V, 500W Frame-integrated Controller
Water Resistant Connectors and Wiring Harness
Thumb Thottle - Left Hand
Landian W-750 LCD Display
Battery Level, Assist Level, Speedometer, Odometer, Trip Distance
9-level Pedal Assist with Cadence Sensor, Throttle, Pedal
32 km/h (20mph) - Throttle or Pedal Assist
Integrated LED Head & Tail Light
RST Guide 26, Hydraulic suspension with 75-120 mm travel, Rebound Adjustment, Lockout
Shimano Acera RD-410, 7 Speed
Shimano Tourney TX50R6CT, Thumb Shifter Plus, 7 Speed
Prowheel, Aluminum Alloy-6061 44T Crank, 170 mm with Outer Guard
Wellgo LU-313, Aluminum Alloy Pedals with Reflectors
Promax MA-596, 105 mm length, 31.8 mm bore & 28.6 mm steerer
Tektro Auriga HD-E500, Hydraulic Disc-brake Front & Rear, 180 mm Rotors
Tektro Auriga, Aluminum Alloy with motor cutoff switch
Promax, 680 mm Width, 22.2 mm Rise, 31.8 mm Bar Clamp, 9 Degree, Velo grips
Lookin, Comfort Saddle with Rubber Bumpers
Promax SP-252, 30.9 mm Diameter, 350 mm Length, Aluminum Alloy
Kenda Juggernaut, 26" x 4.0" with Puncture-resistant feature
Aluminum alloy, Double wall with 36 spokes
Front & Rear, Aluminum Alloy
Heavy-duty Aluminum Alloy with Wide Plastic Foot
Heavy-duty Aluminum Alloy
193 X 64 X 116 cm / 76" X 25" X 46" (L X W X H)
151 X 30 X 87 cm / 60" X 12" X 35" (L X W X H)
Brand
At Biciel, we embarked on a journey in 2022 driven by a singular purpose: to make eco-friendly and accessible transportation a reality for Canadian. Our story began with a group of passionate individuals who shared a vision of transforming how we move through our cities and explore our landscapes.
Inspired by the stunning natural beauty of Canada and the desire to reduce our carbon footprint, we set out to create electric bikes that would empower individuals to embrace a greener way of commuting, exercising, and adventuring.
In the past, we've witnessed stories of city-dwellers rediscovering the joy of commuting and families forging new adventures together. As we look ahead, our vision remains crystal clear: to empower Canadians from coast to coast to embrace a future of sustainable, joyful, and exciting transportation. The path ahead is filled with new models, enhanced features, and even deeper connections with our community. With each electric bike we create, we're not just selling a product; we're igniting the spark of adventure and inviting you to be part of a movement.